Fill Your Job, Not Your Inbox™
Running a business is hard enough, hiring great employees shouldn't be. HireMojo simplifies the lives of hiring managers and HR teams by making it significantly easier to find and make a great hire. HireMojo is the industry's first hiring automation solution and automates every step of the process: job description and interview question creation, job marketing, screening and scoring, candidate management, and all of the little things that add up to lost time ... until now! HireMojo uses CLOUD RECRUITING® technology to help you find the right people, faster.
Create a Killer Job Description in 30 seconds
Quickly create job descriptions using HireMojo's job description library. Search from over 50,000 actual job descriptions with intelligence on how they have performed for other companies. Choose the one you like, then customize it to match your exact needs.
Successful Job Descriptions
Utilize job descriptions that have been led companies like yours to the great hires
Job Performance Analytics
See the hiring success of each individual job description in our database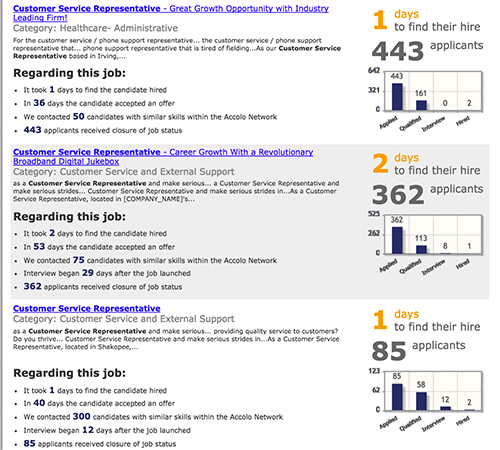 Online Interviewing and Candidate Screening
Automatically pre-screen and rank all applicants. HireMojo uses a patented online interview process that lets you cut through all of the unqualified resumes to identify the top candidates for your business. After all, you shouldn't have to dig through all of the dirt to find your gold.
Identify the Right Candidates
Save tons of time by pre-screening candidates with online interview questions to spotlight which candidates are best for your business
Patented Online Interview System
HireMojo helps you solve the challenge of how to save time finding qualified candidates with a patented online interview system.
Get More Qualified Candidates with Smart Job Marketing
With hundreds of job boards and networks out there, how do you choose? The answer. You don't have to. HireMojo uses historical data, real-time performance metrics, and predictive analytics to automatically post your job where you're most likely to find your next hire. Save money, save time, and find your next employee.
Our Reach is Better Than Yours
With the largest and most diverse set of job boards out there, we've got your job marketing covered. But we take it even further. HireMojo looks at job marketing holistically and includes: powering your career site; social media; automated sourcing from our 2.5+ million members; PPC and retargeting (at no additional cost).
Say Goodbye to Post and Pray
Traditional job boards and applicant tracking systems focus on the volume of applicants. HireMojo identifies qualified candidates based on your requirements and intelligently posts jobs to find and engage the people you'll ultimately hire.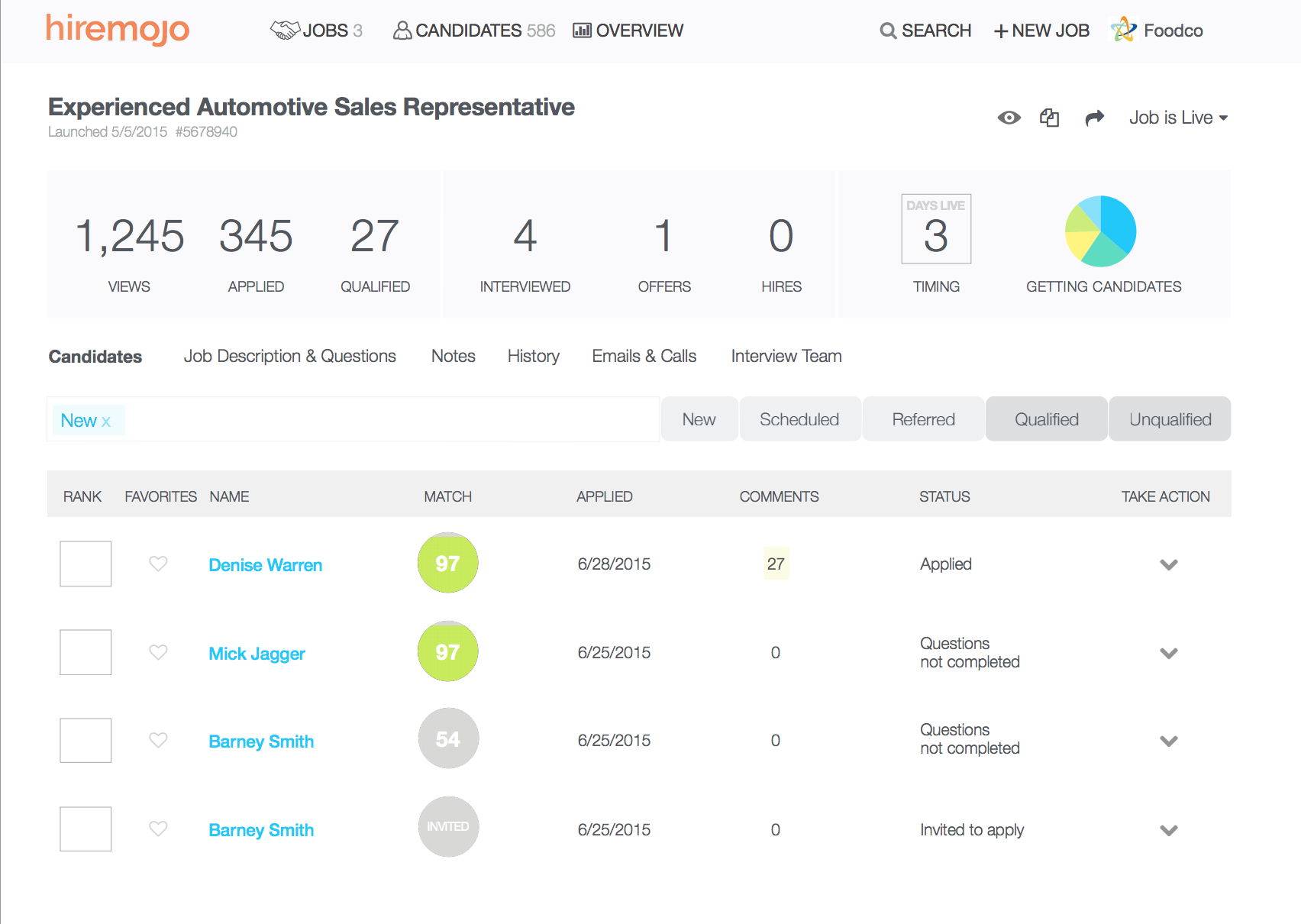 Identify Best Match with Automatic Scoring
After each candidate completes their online interview HireMojo automatically screens and scores them by how well they match your requirements. You'll never have to waste time on phone screens or reviewing hundreds of resumes again.
Multiple Choice Questions
Choose multiple choice questions from HireMojo's library of interview questions to determine whether an applicant meets your requirements.
Behavioral Based Questions
If candidates match your requirements, then HireMojo lets you further assess their skills or cultural fit with Behavioral Based or Skills Based Questions.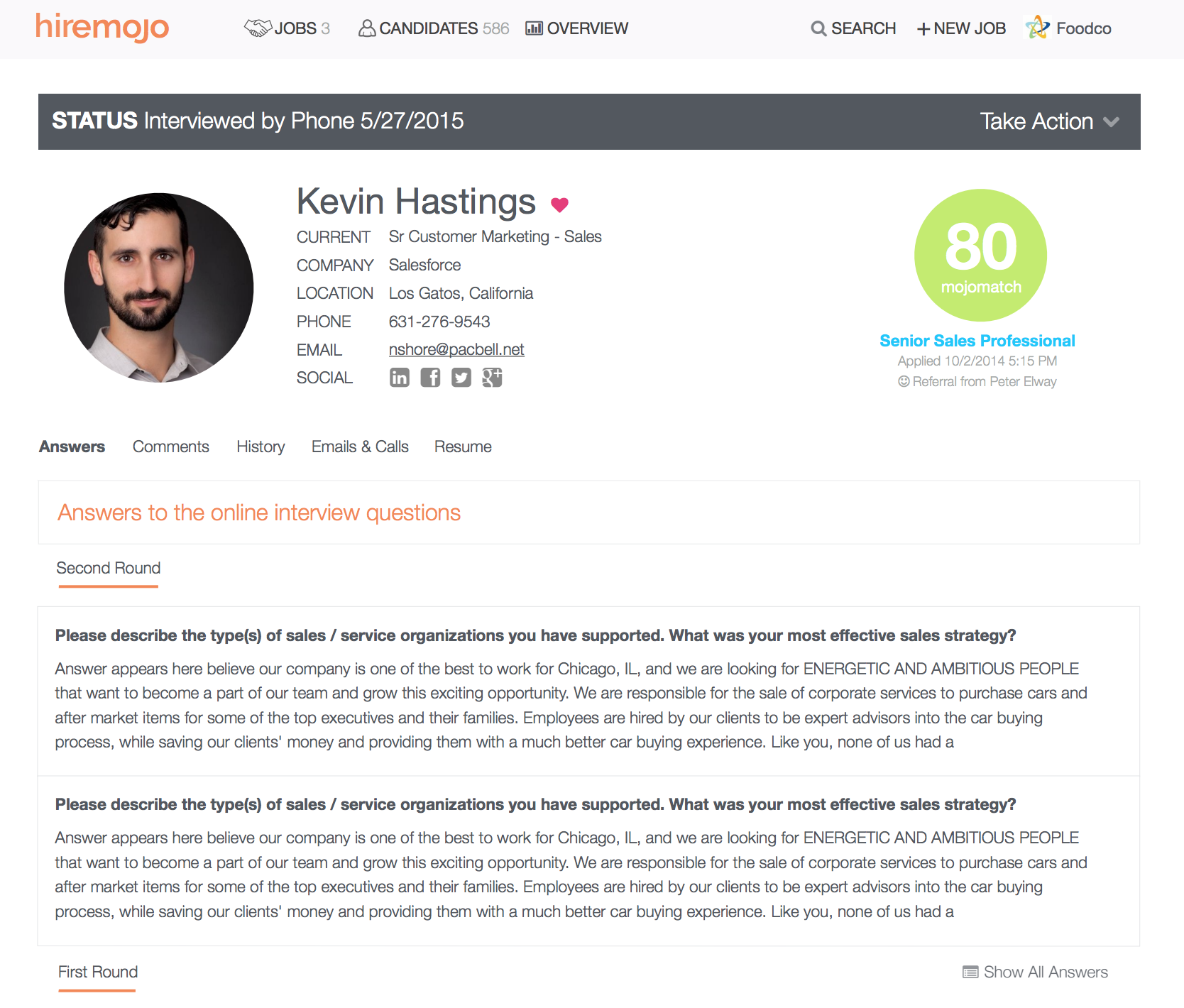 Candidate Management for the 21st Century
It's time to look beyond a traditional Applicant Tracking System. Technology has advanced and so has the way we hire. HireMojo lets you automate the administrative labor and overhead that your hiring managers face, so you can focus on making a great hire.
Focus on Qualified Candidates
HireMojo helps you identify them faster so you can build a stronger team than your competition.
Candidate Info At Your Fingertips
HireMojo lets you quickly view candidate resumes, check status, notes, schedule interviews and even send "No Thank You" emails to close the loop.
Collaborative Platform
HireMojo lets hiring managers and other members involved in the hiring process easily collaborate with a simple to navigate interface, shared candidate history, notes and communications. Work together to make smarter hiring decisions.